Basement and Crawl Space Mould
A problem that has plagued homeowners for quite some time but has sharply increased in recent years is basement and crawl space mould. Mould can lead to the structural damaging of your home as it settles into the wood beams under your home, causing rot and decay. As if that weren't enough of a reason to start a personal "war on mold", there are numerous health concerns that come from mouldy homes.
By sealing off a vented, dirt-floored crawl space, waterproofing a basement and/or installing a dehumidifier, you can take charge of the moisture level in your home and help prevent serious damage to it and improve the health of its inhabitants. BlueMaxx Basement Systems can help you with this!
Mould Allergens
"There is no practical way to eliminate all mold and mold spores in the indoor environment. The way to control indoor mold growth is to control moisture." - United States Environmental Protection Agency
Do you experience the following symptoms:
Sneezing
Itching Skin
Redness and skin irritation
Watery Eyes
Itching Eyes
Headache
Then it is possible that these symptoms- and perhaps others- have been caused or even worsened by indoor air pollutants and allergens such as mould spores.
Mould spores are living organisms that can get into your system through contact with the skin, inhaling them, or by ingestion. Inactive mould spores that have been lying in dormancy for years can reactivate if given the opportunity to thrive. Even dead mould spores are harmful and trigger allergic reactions!
Mild mould exposure can lead to symptoms including a runny nose, a scratchy throat, fatigue, and mild allergic reactions. In more advanced exposure cases, symptoms of joint and muscle pain, nausea, weight loss, nose bleeds, and loss of appetite are seen. High levels of exposure to mould can be fatal.
Time Magazine reports hundreds of thousands of mold spores in a single cubic meter of air in an indoor situation. A single person inhales 10 or 12 cubic meters daily. These facts are a bit disturbing, aren't they?
Basements Are Ideal For Mould
Mould needs two major things in order to grow and thrive:
Moisture
Organic substances for food
Basements and crawl spaces are notorious for being damp and moist. Water vapour filtering in through porous concrete walls or dirt floors and collecting on pipes and fixtures can keep a sub-floor area damp. Plumbing or roof leakage allows for water to pool up. Any water problem that isn't addressed within 48 hours will provide enough moisture for mould spores to find refuge.
So much of our basement and crawl space make-up is organic or has organic materials in it. Wood, drywall, paper and cardboard, fiberglass, photographs, furniture, and particle board are just a small number of items commonly found in basements that mould can feed on.
When mould takes over a sub-structure and starts spreading, it can cause rot to set in. The organic wooden beams that support your house sets on, are in constant contact with moisture and are prime candidates for mold and rot. The structural damage that starts with a mold infestation will cause floors to sag and warp, walls to fall in on themselves and ceilings to drop.
Mould, Insurance, and Lawsuits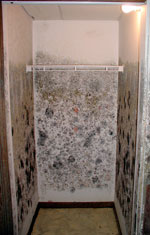 Mould, mildew, rot, and even dust mites are an increasing problem that homeowners, landlords, and building mangers are having to deal with and be concerned with on a daily routine.
According to the Journal of Property Management, lawsuits have been filed by the tens of thousands against landlords, developers, and insurance companies over mould-related issues. Many having to do with damage issues but the majority of the cases being of a health nature.
In response to this, many general liability and property insurance companies have begun to exclude mould from their protection policies. The more this happens, the higher insurance rates go up.
Eliminating Mould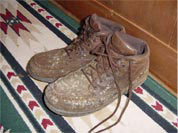 Applying the time-honoured bleach solution to a mouldy area in your home will stop the mould from spreading but only temporarily. Bleach will not stop mould from growing. Store-bought mould coatings only protect what they coat. That means that everything that enters the space will have to be treated from that moment on. Plus, mould will still have a surface to grow on and spread its spores unless you can also coat your ventilation ducts inside and out.
Short-term solutions for a possibly long-term problem, the best solution is to hire a certified and licensed expert who is trained in mould mitigation and control.
The Environmental Protection Agency recommends reducing the indoor humidity to 60% or lower; ideally between 30-50%. Getting the upper hand on mould can also be achieved by removing all water leaks.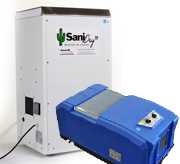 Installing a powerful and efficient dehumidifier can eliminate most, if not all of the air contaminants and allergens and humidity and water vapour in your basement or crawl space. BlueMaxx Basement Systems offers the SaniDry™ dehumidifying system for such a job. With a powerful blower, large cold coil, and an air filter that can remove particles as small as 2 microns, this self-draining, ENERGY STAR® rated system can remove allergens such as mould spores, dust mite waste, pet dander, moisture, and pollen.
If you have a finished basement, the SaniDry™ can easily be stored in a closet or unfinished area and ducted into the space. Smaller SaniDry™ dehumidifiers are available just for the crawl space environment.
For your Free Estimate and written quote on a basement or crawl space dehumidifier, phone or e-mail us today!
Looking for a price? Get a no cost, no obligation free estimate.