Dependable Crawl Space Repair & Encapsulation Company Near Brandon, Winnipeg, Portage La Prairie
Wood, fiberglass resins, paper, cardboard, and other materials can easily grow mould and rot in a crawl space. This will make the floor above sag as well as create health issues.
Water is the most common substance that starts and causes a total breakdown of your crawl space's strength and integrity. That will lead to the weakening of your entire house. And a damp crawl space also has detrimental health aspects too.
A vented crawl space with a dirt floor- or an unconditioned concrete floor- is not a thing you really want under your home. Without some kind of waterproof barrier, the water and water vapour seep up unblocked into your sub-flooring.
This water vapour settles and condenses on the cooler wood under your home. And that dampness provides the starting point for mould and rot which then leads to structural damage.
The thriving mould in your crawl space (ever wonder where that musty smell is coming from?) can circulate throughout your house by means of the natural action called convection. The millions of mould spores can easily travel into every room your home from the crawl space.
Plus, all sorts of critters such as ants, termites, mice and other rodents love the living conditions of a damp environment.
Crawl Spaces: Your Home's Poor Air Source.

The air in your house naturally circulates from the top to the bottom. So, all the mould spores and odors and dust and humidity that exist in your untreated crawl space gets sucked up and dispersed throughout the living areas above it.
Many of us have allergies or experience allergic reactions to these air-born elements and we don't even know the dirt crawl space is affecting our health.
But the CleanSpace® Crawl Space Encapsulation System, developed by Basement Systems, can resolve all those structural and health problems.
Crawl Space Repair: Before and After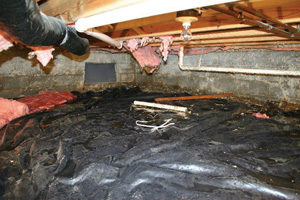 Moisture, mold and falling, failing insulation are problems in this crawl space, which hasn't been properly sealed.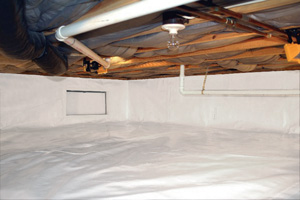 The encapsulation treatment totally separates and protects the crawl space interior from outdoor conditions, keeping the space clean and dry.
The Solution: The CleanSpace® Crawl Space Encapsulation System
Cleaning and sealing a crawl space is a one-day job. And our liner comes with a 25-year warranty!
The CleanSpace® crawlspace vapour barrier puts a waterproof barrier between the earth below and your home above, reducing the moisture level (humidity) in the air.
Having a lower humidity level means a lower chance of mould growth, a lower chance of rot setting in, and a lower chance of those pesky critters getting into your home.
The crawl space liner used in the CleanSpace® encapsulation procedure is a heavy 20-mil-thick material, similar in nature to a pool liner. It is a blend of high and low-density polyethylene with a braided cord reinforcement ensuring strength and longevity.
The moisture proof CleanSpace® liner is tough enough to crawl on without fear of tearing or putting holes in it. So, access and service to sub-floor pipes or electrical is easy. And it's tough enough to store items on as well, allowing you to use even more of your home's now-available space.
Give Us A Call!
When you see that it's time to seal your crawl space, BlueMaxx Basement Systems is the professional contractor to contact. They service all of Manitoba, including Winnipeg, Arnot, Brandon, Brochet, Dauphin, Island Lake, Little Grand Rapids, Lynn Lake, Melita, Nunalla, Port Nelson, Russell, and Swan River.
For a free, no-obligation crawl space encapsulation quote, call or e-mail us today!